Navitron Onsite
Navitron Onsite is an Internet filtering appliance allowing you protect and monitor your users when online. This solution is suitable for companies, organizations, institutions, schools and libraries.
Navitron Onsite is a complete operating system. When installed on a server, the resulting software suite is a dedicated web filter appliance for your network.
Navitron Onsite protect your network from malware, phishing, block access to inappropriate content such as pornography, drugs, mature sites, hate speech, intolerance and so on, control access to social networking and minimize non work related browsing in a way that suits your needs.
Navitron Onsite is the most versatile filtering platform ever created. It includes functions from single computer control to access point control and allows you to create unlimited web surfing policies. You can deploy different filters for different computers based on user or source IP.
Requiring no end user client software, administration is extraordinarily simple and real-time detailed reporting will let you see the browsing activity of your network.
With Navitron Onsite you'll have full access to your system from anywhere in the world. So, if you have an internet connection, you'll have complete control of your users... even if you're on vacation. With a simple & intuitive browser-based interface anyone can learn to manage their network.
Navitron Onsite features

Stateful firewall, networking and security.

Zero maintenance, fully automated daily updating.

Several predefined filtering/browsing policies to choose from and unlimited possibilities to build your own tailored policies.

Set time frames to allow or disable Internet usage for each device.

Our policy engine controls allow you to create filtering/browsing policies by user, type of content, timeframe, and location.

Make adjustments from your laptop in the office or from your smart phone on the road.

Highly efficient automatic incremental backup on every adjustment.

Detailed reports and statistics.

24/7 technical support from the www.navitron.net team.
Navitron Onsite appliances
X_Onsite

S_Onsite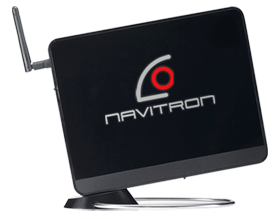 Both appliances (servers) contain the same software and management options. The difference is only the processing capacity.
X_Onsite
Filter Server for large networks and/or intensive Internet usage. X_Onsite is suitable for companies, universities, institutions and organizations.
S_Onsite
Filter Server for small networks (usually less than 50 computers) and/or occasional Internet usage. S_Onsite is suitable for small offices, schools, kindergartens and libraries.